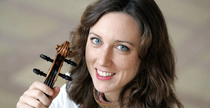 Alicia Lagger | Violine
Studium an der University of Illinois (Bachelor of Music) bei Sherban Lupu. Studium an der Manhatten School of Music (Master of Music) bei Luci Robert. Konzertmeisterin der Chicago Youth Symphony und Konzertmeisterin der 2. Violinen der Harrisburg Symphony in Pennsylvania.
Mit Trio Dionysus Preisträgerin des Artists International Competition New York. 2005 Umzug nach Berlin. Studium bei Axel Wilczok. Akademistin des Rundfunk-Sinfonieorchesters Berlin. Seit 2006 Mitglied des Konzerthausorchesters Berlin. Seit 2008 ständiger Gast im Horenstein Ensemble.