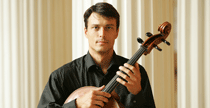 Andreas Timm | Cello
Studied in Leipzig and Lübeck as well as for the postgraduate concert exam in 2004 with Gustav Rivinius in Saarbrücken. Prizes and awards in national competitions, 2nd prize in the 2001 international instrumental competition in Markneukirchen. Scholarship from the Deutsche Stiftung Musikleben in Hamburg.

From 2002 deputy principal cellist in the Konzerthaus Orchestra Berlin. Solo performances with different orchestras under the baton of Heribert Esser, Gabriel Feltz and Max Pommer. Chamber music partners include Gianluca Cascioli, Eduard Brunner, Michael Endres, Wenzel Fuchs and Albrecht Mayer, also with the Gewandhaus Quartet.

Member of the Philharmonic Camerata Berlin and the Ensemble Leipzig-Berlin. Concerts in many European countries and in Japan. Numerous invitations to chamber music festivals, e.g. the Tokyo Strings Festival, the International Festival in Echternach (Luxemburg), the Brahms Festival Hamburg, the Bachfest 2000 and the Mendelssohn-Festwochen in Leipzig. Radio and TV recordings.